Trust begins work on 46 homes for social rent in Govan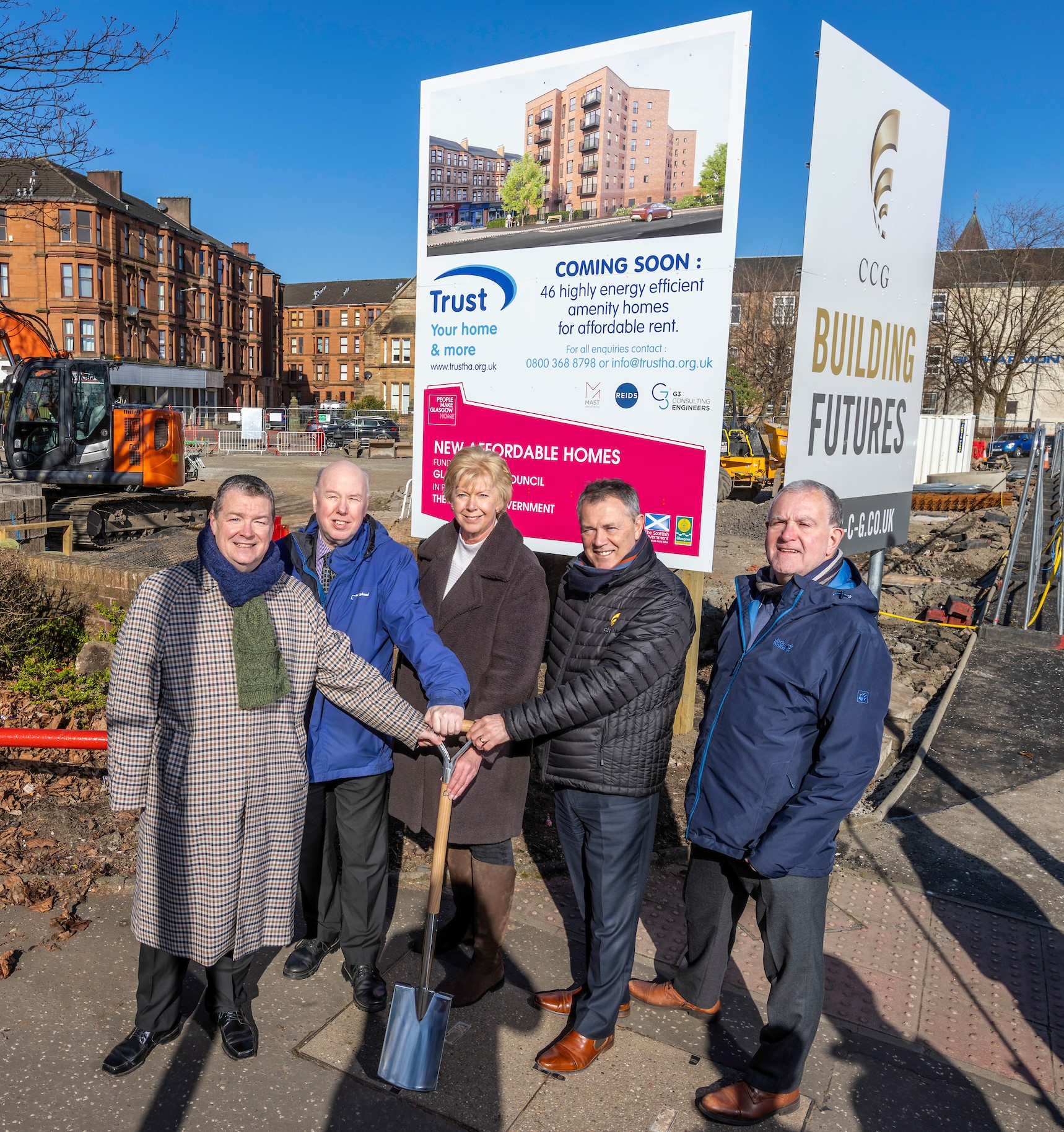 Trust Housing Association is working in partnership with Glasgow City Council and CCG (Scotland) to develop 46 new homes for social rent in Langlands Road in the Govan area of Glasgow.
The development is part of Trust's ambitious new build programme and will contribute towards the supply of affordable housing in Glasgow and complement the significant housing-led regeneration investment programme in Govan. The project will see almost £9 million invested in affordable housing via Glasgow City Council and Trust.
The Langlands Road development – which will meet 'Housing for Various Needs' standards, the 'Greener Standard' and 'Secure by Design Gold Standard' - will deliver 46 1 & 2 bedroom flats, equally split across two 6-storey blocks, and all flats will be developed for amenity housing and tenants over 55 years of age.
The site is in a prominent town centre location, formerly a surface-level car park, adjacent to the Govan Cross Shopping Centre. The site benefits from proximity to excellent public transport links with Govan Subway Station and Govan Bus Terminal located only 200 metres away. The site is also in close proximity to Trust's Glasgow office and retirement development on Elder Street/Garmouth Court in Govan.
Planning consent was granted for the site in September 2022 and the on-site work began at the end of October 2022. The development is due to complete in Spring 2024. Working alongside CCG (Scotland) are MAST Architects, Reid Associates (Employers Agent), G3 Consultant Engineers (Principal Designer & Engineer), and Smart Inspection (Clerk of Works).
Rhona McLeod, Trust's CEO, said: "We are delighted to be working in partnership with both Glasgow City Council and CCG (Scotland) to deliver affordable homes in Glasgow and play our part in the regeneration of Govan, one of the many communities we serve across the length and breadth of Scotland. This is our first new build project with CCG (Scotland) and we look forward to developing a long-term relationship that has the potential to deliver affordable housing and meet local housing need."
Councillor Kenny McLean, convenor for housing at Glasgow City Council, said: "It's great to see the start of work on these homes for social rent in Govan, all the more so as they will meet a need for housing for people aged 55 and over. This development - supported by the council - joins a series of other housing and regeneration projects taking place in the wider area, all of which will improve the quality of life for local people."
CCG (Scotland) director, Calum Murray, added: "Our site start at Langlands Road is a big milestone for CCG. Working in partnership with MAST Architects, we took the land from a blank canvas and developed it into a hugely efficient affordable housing solution that is tailored to meet the needs of Trust and the future tenants. It will now be built out entirely by the integrated construction and manufacturing expertise of the CCG Group and I look forward to seeing how works progress over the next year as we embark upon a new partnership with one of Scotland's leading housing providers."