Two Fife Council apprentices win awards at APSE UK Housing & Building Apprentice Awards
Fife Council apprentices Calum Love and Ashley Duffy have picked up prestigious awards at the Association for Public Service Excellence (APSE) UK Housing & Building Apprentice Awards.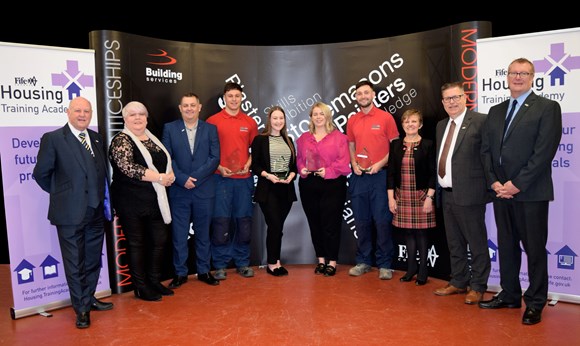 Calum Love from building services was crowned the UK Apprentice of the Year in Building Skills and Ashley Duffy, a housing professional trainee, was awarded the UK Apprentice of the Year in Professional Services.
The recognition didn't stop there though with another two apprentices from building services being recognised as UK finalists – Grant MacGregor, in the mechanical & electrical category and Amy Gordon in professional skills.
The annual APSE Apprentice Awards recognise services that are delivered to local communities, by local councils. Fife's apprentices beat competition from other entrants all over the UK, to be recognised for their outstanding efforts.
Craig Walker, councillor and convener of the council's assets, property and facilities committee, said: "In Fife Council, we're extremely proud of our apprenticeship and trainee programmes. This latest achievement demonstrates huge effort on the part of our apprentices and their mentors. I'm delighted their hard work and diligence has been rewarded with this national award."
Councillor Judy Hamilton, the APSE UK chair of housing, construction and building maintenance, added: "We are very proud to be members of APSE and it is amazing to see that even in these challenging times, local government throughout the country is delivering on apprenticeships and trainee programmes, developing a skilled workforce for the future.
"Of course, I am delighted that once again Fife Council apprentices from both Housing and Building Services have been recognised from over 300 councils across the UK. They are a very important part of our frontline services and I'd like to congratulate them on this fantastic achievement."
Ross Grieve, service manager for Fife Council's building services, said: "We are extremely proud our apprentices have been recognised at a UK wide competition for their excellence and would like to congratulate the candidates who were selected. These achievements highlight the standard of apprenticeships we provide in Fife Council.
"Well done to Grant and Amy on reaching the finals and congratulations on their wins. We hope our working partnership between the Council's Housing and Building Services can bring us continued success in the future."
John Mills, head of housing, said: "I am delighted that one of our Graduate Housing Trainees has been recognised nationally. Ashley is an exemplar of our future housing professionals here in Fife. She is dedicated and passionate about housing and has a great future career in the housing sector in Fife."