UK Housing Review highlights growing inadequacy of social security benefits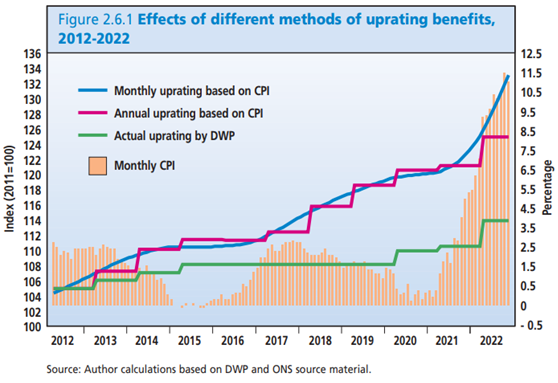 The Chartered Institute of Housing (CIH) has urged the UK Government to use next week's Spring Budget to address the growing income shortfall faced by many households who rely on benefits after its upcoming UK Housing Review highlighted the impact of decisions over the past decade not to uprate in line with inflation.
There is no single nationally recognised index of income need, but the Joseph Rowntree Foundation's (JRF's) 'minimum income standard' (MIS) provides a benchmark based on a consensus view of the lowest acceptable income, against which the adequacy of universal credit (UC) standard allowance and pension credit (PC) minimum guarantee can be assessed.
Analysis by CIH shows just how much the disparity between benefit recipients' allowances and the minimum income appropriate for a household has grown. For example, for families with children, the gap ranges from £252 for a single parent with one child to as much as £340 for a two-parent, two-child family.
The restoration of uprating from April 2020 did not restore benefits to their 2012 value so the losses are permanent and compounded each year as prices rise. By April 2023, working-age benefits will have lost around 8.8% of the value they would have had if the CPI uprating policy had been adhered to.
Furthermore, CIH's analysis shows that if benefits had maintained their real value, the nominal increase would be 33.5% (or 39.1% from April 2023). This means they have lost around 14.4% of their real value – reducing to a projected 9.6% immediately following the April 2023 uprating.
CIH's welfare lead, Sam Lister, said: "Benefit rates have been inadequate for a long time, but our analysis highlights the huge gap that has developed between benefit recipients' allowances and the minimum income needed for a household to get by. People on basic benefits have no headroom to absorb one-off costs and emergencies, and we see this reflected in the unprecedent rise in foodbank use and homelessness over the past decade."