Urgent change in infrastructure approach required to deliver net zero carbon economy
The Scottish Government should put "place" at the heart of coherent, infrastructure prioritisation and planning to achieve an inclusive net zero carbon economy, according to a 30-year infrastructure blueprint published today.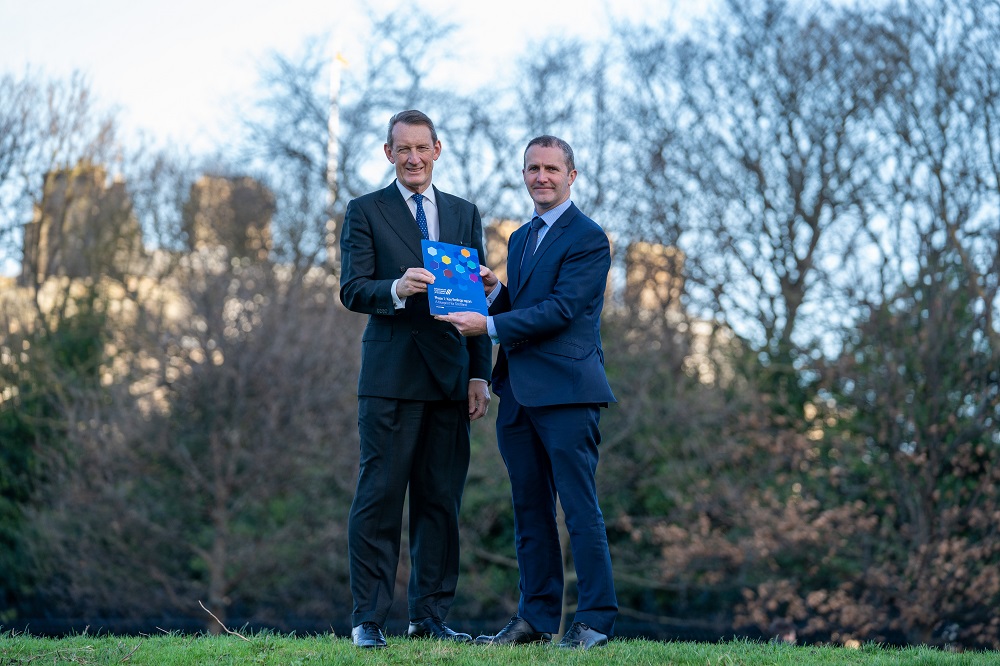 Presented by the Infrastructure Commission for Scotland (ICS), 'Key Findings Report – A blueprint for Scotland' sets out eight overarching themes and 23 specific recommendations for the Scottish Government to consider.
The first publication of its kind in Scotland, the strategy follows a period of extensive engagement with key stakeholders and organisations from across Scotland and beyond.
The themes are:
Future infrastructure decisions to be based on delivery of an inclusive net zero carbon economy
Increased emphasis on "place-based" infrastructure
Maximise, broaden the use of and better maintain existing assets
Accelerate the decarbonisation of heat and transport
Develop appropriately devolved regulatory and pricing frameworks
Escalate and expand access to digital and technology services
Improve and extend public engagement to shape decision making
Explore options for long-term and independent infrastructure advice
Established less than a year ago to develop Scotland's infrastructure strategy for the next 30 years, the ICS recognised net zero carbon and an inclusive growth economy as two overarching policies that were priorities on both a national and global scale. Therefore, the ICS placed these priorities at the heart of its objectives, marking a sharp shift from the overall policy convention of the last 50 years, which has broadly been aimed at maximising GDP.
The global focus on climate change, together with the Scottish Government's own Net Zero Carbon target by 2045, have profoundly influenced the work of the ICS in the development of the 30-year strategy.
Ian Russell, chair of the ICS, said: "While infrastructure investment remains a vital factor in supporting the economy and acting as an enabler to deliver effective public services, future infrastructure decisions should be based on their ability to clearly demonstrate their contribution to an inclusive, net zero carbon economy.
"We do not underestimate the nature and scale of the challenges facing future infrastructure decisions and recognise difficult decisions will need to be made. This will require bold and determined leadership from the Scottish Government.
"However, this is not just a challenge for the public sector. Critically it is a call to everyone who plans, builds, invests in, owns, operates, regulates and, as importantly, uses Scotland's infrastructure.
"If we can all embrace and build on the recommendations set out in this Report, we can go a long way to turning an infrastructure vision for an inclusive, net zero carbon economy into a reality."
Cabinet secretary for infrastructure, Michael Matheson, said: "I'd like to thank the Commission for submitting its report, following a twelve-month process.
"This advice will help shape how we plan to invest in Scotland's infrastructure, recognising the long-term objectives of this Government to deliver an inclusive and net zero emissions economy.
"The value of investing in infrastructure goes beyond the physical homes, schools and hospitals we see in everyday life. If done well, it has the capacity to unlock economic potential, support jobs, and enable our businesses and communities to strengthen and grow.
"We will now take the time necessary to carefully consider the report before updating Parliament on how we plan to incorporate the recommendations into Scottish Government policy and the next Infrastructure Investment Plan."
The next stage of the ICS' 18-month programme will see the Commission provide guidance to the Scottish Government on how best to consider the 23 recommendations set out in the strategy.
The publication has been welcomed by Royal Town Planning Institute Scotland, which took part in discussions organised by the Commission and submitted a response to the Commission's call for evidence.
RTPI Scotland convenor Irene Beautyman said: "We very much welcome the commission's call on Scottish Government to introduce a co-ordinated and appropriately resourced 'infrastructure first' approach to the planning system. An important first step on this will be to ensure that the National Planning Framework is accompanied by a costed capital investment programme to ensure we have a deliverable road map to a zero carbon economy."
RTPI Scotland also welcomed the proposal to establish a body to provide independent, long-term, evidence-based advice to Scottish Ministers on investment decisions.
Irene Beautyman said: "We have been highlighting for some time that decisions on infrastructure investment need to think beyond the here and now given the long-lasting impact that they can have. We therefore support the establishment of this new body, along with the proposal to reprioritise the assessment criteria for funding infrastructure to ensure that zero carbon is at its heart."
With the cost and delays associated with delivering necessary supporting infrastructure among the biggest blockers to residential development, trade body Homes for Scotland today welcomed the 30-year blueprint.
Chief executive Nicola Barclay said: "We were pleased to see that the Infrastructure Commission has acknowledged housing, which is crucial to Scotland's long-term success and wellbeing, as an integral component of the country's essential infrastructure.
"New housing developments do not stand alone and are themselves dependent on having the necessary supportive infrastructure in place (such as schools, GP surgeries, transport options, water, gas, electricity and broadband). As well as being required for the new residents, such upfront provision also helps to alleviate concerns from existing residents.
"However, costs are prohibitive for both developers and their public sector partners. If Scotland is to fully meet the housing needs and aspirations of its people, we must find the funding and delivery solutions for both on-site and off-site infrastructure requirements otherwise development, particularly by SMEs and in rural areas, risks being stymied even further.
"As we travel towards a net zero carbon economy and look to deliver the places of the future, this requires collaboration across public and private sectors. Homes for Scotland and its member companies stand ready to play their full part in developing the next stage of this important work in June 2020, when the Commissioners will be looking to shape the options for delivery of their recommendations."
Responding to the publication, Morag Watson, director of policy at Scottish Renewables, said: "Scottish Renewables was pleased to contribute to the work of the Commission in developing this report and we welcome its emphasis on achieving net-zero, as well as its recognition of the key role of the renewable energy industry.
"We agree with the Commission's assessment that decarbonising heat and transport are key challenges which can be addressed through greater electrification.

"As the Commission begins work on options for delivery we look forward to working together on the three key areas highlighted in our input into this report: developing a clean power plan, ensuring a viable jobs transition and developing a clear policy framework to decarbonise heat."
STUC deputy general secretary Dave Moxham said: "In its first report the IICS has set the right ambitions on inclusive growth and Net Zero Carbon. The report does not shy away from the enormous challenges presented in areas such as transport and the decarbonisation of the heating system.
"The transformation required will not be delivered by the market or by private sector companies operating short-term, profit maximising, shareholdings satisfying business models. We need a publicly owned infrastructure company that will provide strategic leadership and set the standards, - including employment standards - that we need to ensure inclusive growth is achieved.
"We also require a strategy to ensure good jobs are created in Scotland across the supply chain."
Citizens Advice Scotland fair markets spokesperson Dr Jamie Stewart said: "This is an important report and the Commission are absolutely right to say that net zero and decarbonising heat should be at the centre of Scotland's infrastructure planning for the next 30 years.
"The first step to building a net zero economy is a more energy efficient Scotland, which is why Citizens Advice Scotland have called for a doubling in energy efficiency spending in the upcoming budget.
"This move will lay vital foundations for cleaner energy to heat homes, but also to ensure that the price of lower emissions does not fall on consumers who would find it hardest to pay.
"We know people struggling in hard to heat homes is a real problem, that's why we are reaching out to people in those types of homes as part of our Big Energy Saving Week campaign so that they know that help and advice is on hand from their local Citizens Advice Bureau."
Today's publication forms part of a redoubling of efforts from the Scottish Government this week to support sustainable economic growth ahead of the UK's imminent exit from the European Union and the publication of the Scottish budget.
A number of key commitments helping the transition toward a low carbon economy are set to take a significant step forward.
These include:
Scottish Government seeks final parliamentary approval of the legislation establishing the Scottish National Investment Bank, whose primary mission will be supporting the transition to net zero.
the relaunch of an Economic Action Plan, which sets out action to help boost the economy and prioritise a low carbon economy
First Minister Nicola Sturgeon outlining how Scotland transitions towards environmental sustainability without leaving people and places behind, while delivering a keynote speech to a wellbeing conference in Edinburgh
Economy secretary Derek Mackay said: "The transition to a net zero economy plays a key role in everything we are doing in Scotland to help our economy grow and flourish. As we look ahead to the Scottish budget, we are taking a number of measures to ensure that this focus is embedded in all that we do and will help to boost economic growth.
"This week we are focusing on how to establish a low carbon economy, with the relaunch of our Economic Action Plan, which outlines how we aim to deliver a high-performing, carbon-neutral, inclusive economy which benefits everyone in Scotland - regardless of where they live.
"On Tuesday our proposals for a Scottish National Investment Bank Bill will be debated in Parliament. The Bill gives Ministers the power to set missions to tackle societal challenges, in consultation with Parliament. The transition to net zero will be the primary mission of the new bank.
"The First Minister will address the Wellbeing Economy Alliance Scotland conference on Wednesday, to discuss how Scotland's public, private, and third sectors can collaborate to achieve economic, social, and environmental wellbeing.
"And I look forward to seeing the Infrastructure Commission's report, which was set up to provide recommendations on how we should invest in Scottish infrastructure over the next thirty years.
"All of this activity demonstrates that our focus on investing in a green economy is working, and I look forward to moving this agenda further forward when I set out the Scottish Government's budget."