Winners announced at 2023 Scottish Empty Homes Awards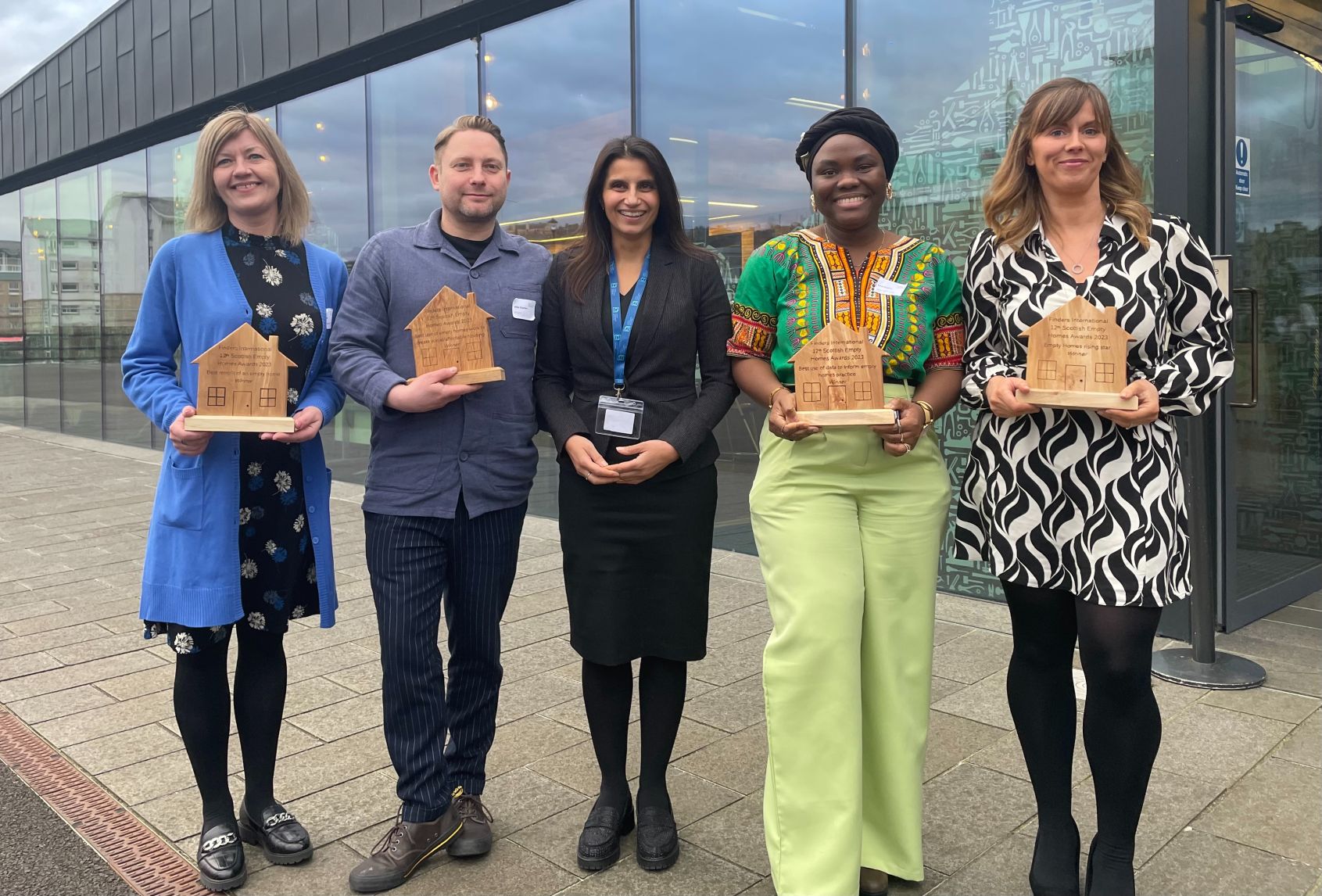 Projects in Dunoon, Aberdeenshire, Dundee and Dumfries have been announced as the winners of the 12th Scottish Empty Homes Awards, sponsored by Finders International.
The awards were announced during the Scottish Empty Homes Partnership conference which was held yesterday at the Engine Shed in Stirling.
The awards were to recognise the efforts of individuals, and private and public organisations which have helped to bring more than 8,000 empty homes back into use since 2010.
The Scottish Empty Homes Partnership conference this year included speeches from Shona Robison MSP, John Kerr of West Dunbartonshire Council, and a video telling the story of Cal and Claire, whose restoration of a property in Dunoon that they purchased by mistake was featured on BBC1 Scotland's 'Accidental Renovators'.
The conference discussed the core issue of sustainability, with the theme 'Reuse, Repair, Revitalise', in regard to empty home improvements and reintroductions.
The matter of sustainability was therefore a key consideration for awarding the winners due to their environmentally conscious efforts to improve empty homes in Scotland.
The winners were as follows:
Best use of empty homes work to create social/affordable housing: For strong contribution to increasing supply of social/affordable housing.
The Grapes Hotel - Whithorn South of Scotland Community Housing
The C listed Grapes Hotel in an Outstanding Conservation Area in Whithorn had been empty for 30 years before its renovation. With assistance from South of Scotland Community Housing, All Roads Lead to Whithorn, a local development trust, was able repurpose the hotel into community-owned housing.
Mike Staples, from SOSCH, said: "Really delighted that the award is recognising the. ower of community led housing and bringing empty homes back into use. This project in Whithorn has been a real collaboration. Great recognition of a strong project."
Best retrofit of an empty home: For excellent environmentally friendly improvement to an empty home.
Jameswood Villa, Argyll & Bute Council
This tenement of 4 flats sat empty for 20 years before being purchased by the current owners by accident at auction. They decided to keep the property and renovate it, focusing on maximising the efficiency of the building, and extending its longevity.
Argyll and Bute empty homes officer, Kelly Ferns accepted the award on their behalf. Kelly said: "Absolutely delighted for Cal & Claire, they're very deserving winners of the award. They've inspired not only me as an Empty Homes Officer, but hundreds of other people to take on and manage empty homes projects."
Best use of data to inform empty homes practice: For outstanding examples of using information to get results
Matchmake to rent, Aberdeen City Council
Aberdeen City Council utilised local housing data to identify & solve gaps in the housing market and inform the creation of the Matchmake-to-Rent Scheme, which seeks to match private housing with tenants. This scheme has helped bring 146 properties have now been brought back into use.
Anu Kasim, Aberdeen empty homes officer, said: "We're absolutely thrilled about this award. It is a recognition of the empty homes services, between myself, my colleagues, and further housing related officers. Well done to us!"
Empty Homes Rising Star: For a new start making a positive impact on empty homes works.
Michelle Morrison, Dundee
Michelle was appointed as Empty Homes Officer in 2021, after the post had been vacant for nearly 3 years. Michelle has already brought 19 Properties back in to use and is actively working with around 10% of Dundee's empty home owners.
Michelle said: "Really pleased to have won the rising star award, I've had a lot of support over the past 18 months from the Scottish Empty Homes Partnership. I've also had my fair few challenges to overcome but I've always appreciated the support from my manager Colin Macrae. I'm looking forward to the years ahead & future projects".
Special Recognition Award
The Special Recognition Award recognised the contribution made by Andrew White, of Perth and Kinross to housing and empty homes, throughout a career that has seen him work across several councils from Edinburgh to the Western Isles, as well as a number of housing associations. Andrew is retiring this year.
Andrew on winning the award said: "This is an unexpected award which I'm very gracious to have received today. Thank you to the Scottish Empty Homes Partnership for thinking of me, working in housing for so many years has been a very enjoyable experience."
Shaheena Din, national project manager for the Scottish Empty Homes Partnership, said: "Huge congratulations to all the winners at this year's conference. Their commitment to improving the Scottish housing landscape does not go unnoticed. With the focus on sustainability this year, we're so pleased to showcase how the housing crisis can be tackled in a greener, more diverse way."
Katie Watson, Finders International, added: "Finders International were proud to sponsor this year's Scottish Empty Homes Awards. The nominees and finalists across the categories were of high calibre. The winners truly deserve tremendous credit for all their work and achievements."