Work to begin on Inverness city centre homes
Work is set to begin on a major city centre retail and residential development in Inverness after a delay due to the coronavirus crisis.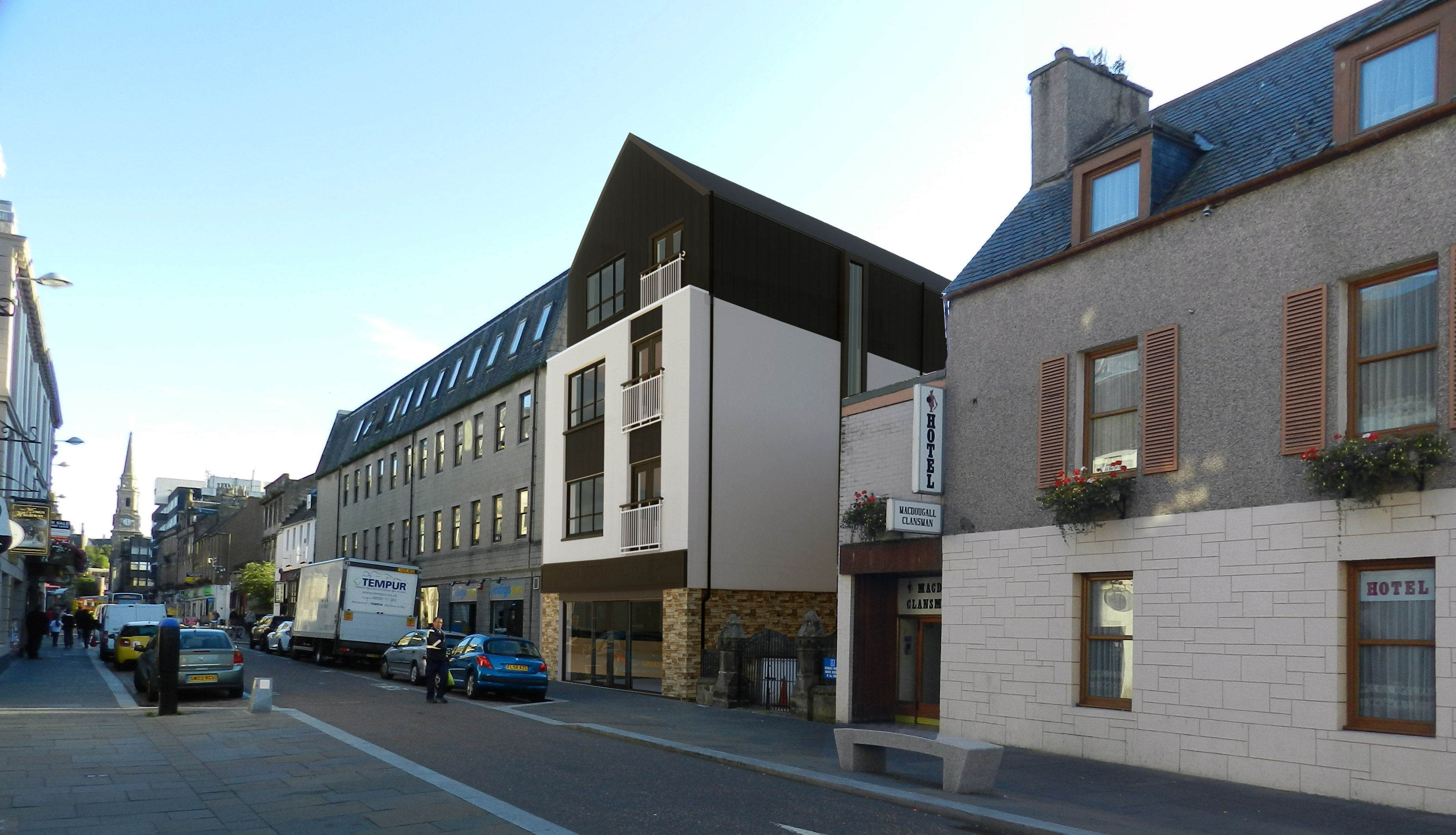 The development from Ark Estates will see the vacant building at 99 Church Street converted into ten high quality affordable rental one-bedroom flats as well as a purpose-built ground floor residential unit of traditional proportions and design more in-fitting with the historic Church Street streetscape.
The commencement of work is the latest sign of the Highland economy taking further steps toward recovery, securing work for approximately 45 local tradesmen.
Brian Innes, from IBI Joiners, principal contractor on the project, said: "The enhanced safety measures we will be putting in place at 99 Church Street include the introduction of temperature checks for staff and visitors to the site, a rota system and one way routes to allow for social distancing.
"With the site being so tight we took the decision to have our site welfare in a neighbouring city centre building which will allow us to have enhanced facilities and maintain social distancing. There will also be increased cleaning on site, and arrangements have been made for materials to be delivered in a way where social distancing can be maintained. There will be a phased return to work on site which will gradually build up from a small number of workers, to prove the new safe systems of working, and it will be continually monitored."
Willie Gray, managing director of developer Ark Estates, added: "We are delighted to be seeing work commence at 99 Church Street which will provide much needed affordable housing and purpose-built retail space for the city centre. It's a real sign of the recovery of a sector which has suffered due to coronavirus. The lockdown was absolutely the right way to try and contain coronavirus but now, in line with government advice, we are returning to work - with the safety of workers on site and those in the supply chain being our absolute priority.
"With Inverness-based IBI Joiners appointed as principle contractor on the development - with many local sub contractors also set to be used - the development will be a great boost for the local economy, providing employment for up to 45 workers during the build."
Allan Maguire, head of development & regeneration at Highland Council, said: "This is yet another great example of the public and private sectors working together to regenerate the city centre, stimulating the economic recovery of the city and providing new high-quality homes."
The site at 99 Church Street was recently voluntarily vacated by New Start Highland after a search for more suitable premises. An attractive four-storey design by local practice, Colin Armstrong Architects, will replace the current altered building which has varying floor levels with limited access to much of the floorspace. The development has been designed to fulfil the criteria of the Inner Moray Firth Development Plan, the Inverness City Centre Development Brief and the Highland Historic Environment Strategy.