79 new homes planned as part of Dundashill masterplan
Bigg Regeneration – a joint venture between Scottish Canals and PfP Capital, managed by igloo Regeneration – has submitted a planning application to Glasgow City Council for 79 new waterfront homes to be built on the former Diageo distillery at Dundashill.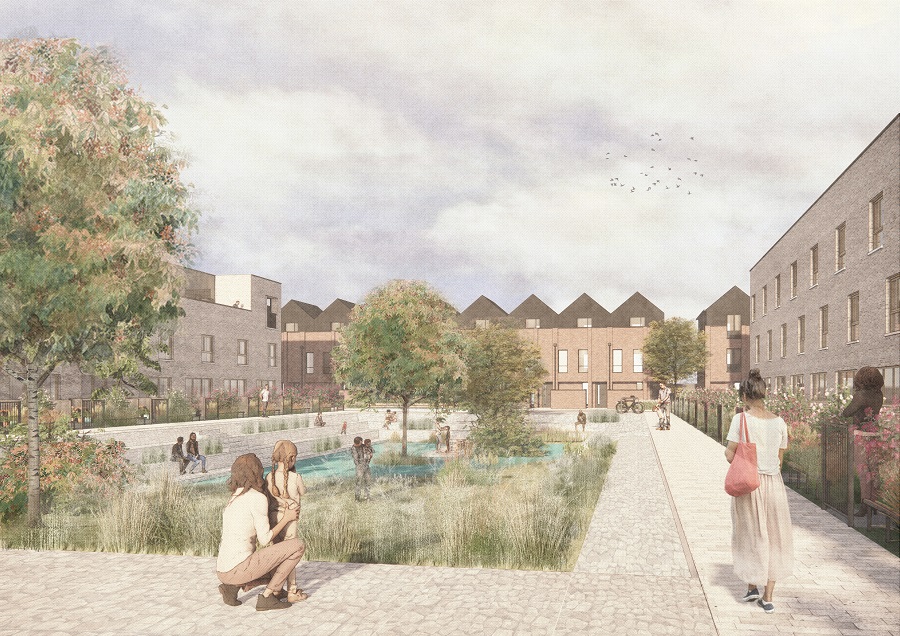 'Dundashill' is a 600-home masterplan that will be delivered over a number of years. The proposed homes from Bigg Regeneration – a mix of three- and four-bedroom townhouses – will be the first offered for sale on the site and will provide an opportunity for contemporary urban living at Port Dundas, a place becoming known as a creative and urban sports destination, on Glasgow's canal.
In response to the distinctive character of this rapidly changing neighbourhood, which, like nearby Spiers Wharf, is evolving into a waterfront community in its own right, the development will offer a rare blend between social and urban lifestyles, delivered through a series of communal spaces and being a quiet hilltop retreat, with homes looking over the city below.
With a choice of designs from Glasgow-based practices Stallan-Brand and Ann Nisbet Studio, the homes will offer high-quality, crafted architecture that celebrates the rigour and rhythm of some of Glasgow's best-loved streets.
Stallan-Brand proposes fully open-plan townhouses that offer residents flexibility in how to use the space. Ann Nisbet Studio's homes are a modern interpretation of an industrial space, with the roof forms and brick piers echoing the rich heritage of Port Dundas and include a dedicated home-working space provided on the top floor.
All homes will have a flexible front courtyard that can cater for bike storage, seating and planting, alongside a private rear garden. Most homes will also have a private roof terrace which will provide residents with a space to share with friends and family.
Building on the successful completion of the site infrastructure by Scottish Canals – which won the best landscaping and public realm category at the 2020 Scottish Design Awards - landscape designers Rankin Fraser have proposed a series of community spaces for the future residents to enjoy, including a hilltop children's play space, a terrace with views over the city, and a centrepiece Sunken Garden that places nature, sustainability and wellbeing at the heart of the proposals.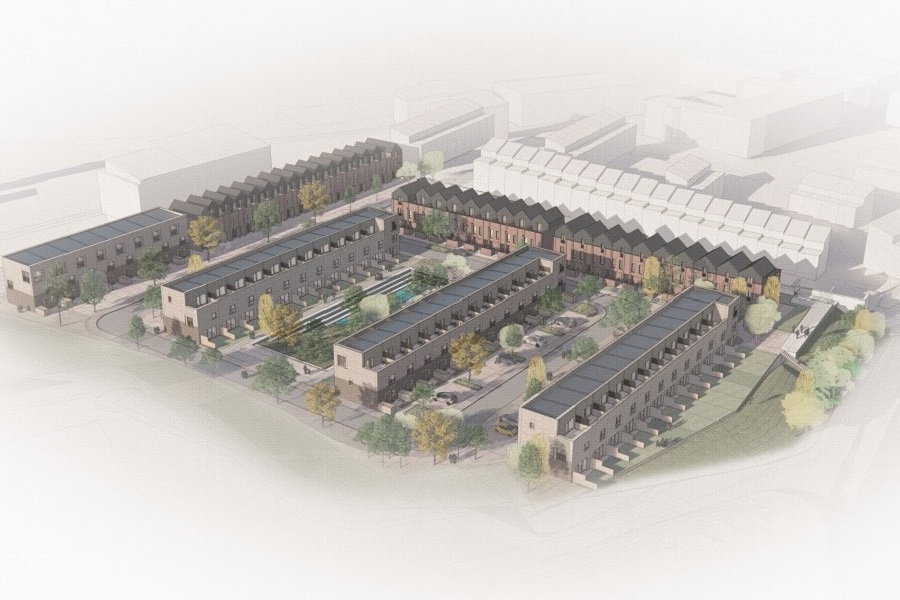 Bigg Regeneration has committed to achieving Gold level reductions in carbon emissions and is exploring options with local sustainability experts, Carbon Futures. Alongside the energy strategy, upfront carbon is also being considered and measured, with key measures including the adoption of off-site manufacture closed panel timber frames, from Bigg's construction partner, Glasgow-based CCG. All parking spaces – which will be allocated to residents – will be electric vehicle enabled.
Quality assurance will be delivered with Bigg Regeneration seeking Home Quality Mark (from BRE) and Building with Nature accreditations.
Dundashill follows Bigg's hugely successful 'Maryhill Locks', which won Starter Home of the Year in 2017, the Glasgow Institute of Architects Best Residential Award (large) in 2019 as well as being selected by the RIAS as one of Scotland's Buildings of the Year in 2021.
Catherine Topley, CEO of Scottish Canals, said: "Dundashill will be an exciting new community of homes designed to meet our rapidly changing lifestyles and to help address the climate emergency we all face. This is a neighbourhood that is transforming rapidly, becoming a connected, characterful place that has blue and green space, including the canal and new Claypits nature reserve, alongside urban sports and new active travel links to the city centre, meaning residents will have the opportunity to meet most daily needs right on their doorstep.
"Our recent development of homes at Maryhill Locks sold incredibly quickly - the latest phase of 33 family townhouses were bought completely off plan – and as the homes at Dundashill will be of an equivalent high standard and value for money, we expect similar demand, as people see the potential to call this new place home. This was a brownfield site which will now be brought back to life, creating a new resident canal-side community overlooking the city. We are delighted to have submitted our planning application and look forward to commencing delivery in 2022."
Bigg Regeneration hopes to start on site in Autumn 2022.