Bill Wilkie MBE opens Eildon's new extra care development
Former chairman of Eildon Housing Association Bill Wilkie MBE officially opened the brand-new extra care development named after him, with a tree-planting ceremony last week.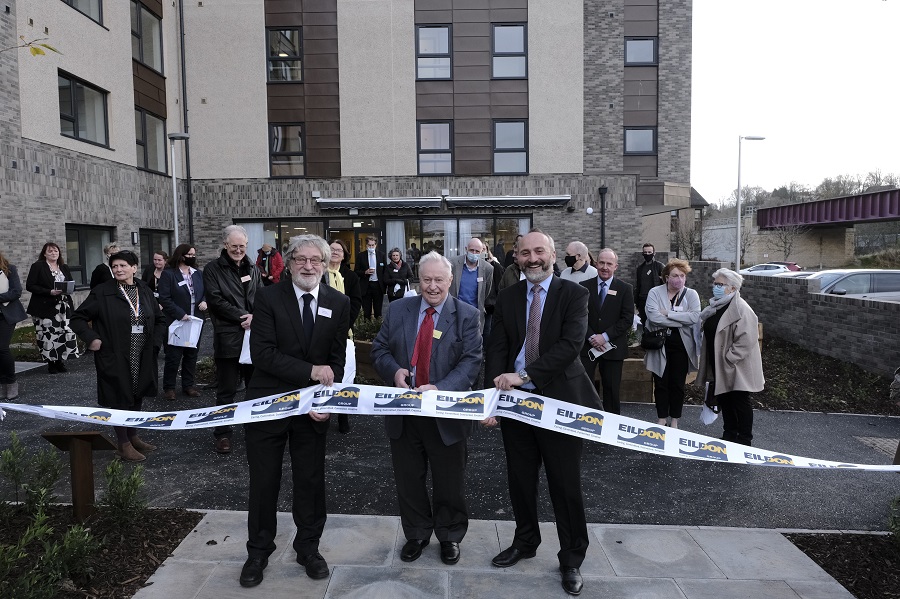 The impressive state-of-the-art development Wilkie Gardens provides 39 one and two-bedroom flats on what was the derelict site of the old Langhaugh Mill.
The total cost of the development was £8.4 million, including £3m Scottish Government grant and £1.8m funding from Scottish Borders Council (SBC), with Eildon investing more than £3.5m.
Mr Wilkie, who was an Eildon board member for an incredible 41 years, and chairman for 26 years, said: "I am thrilled and delighted to open this magnificent building which is a fantastic asset to Galashiels and the Borders area. Not only is it helping to fulfil the growing housing need of the Borders' older population, but it is also providing in excess of 30 brand new jobs; a tremendous boost to our local economy, with Eildon being a fully accredited Living Wage Employer. I am delighted these flats will be filled to capacity come January. A fabulous start to 2022."
Chief executive Nile Istephan added: "We are delighted and excited to finally open our doors at Wilkie Gardens as this project has been delayed due to the Covid pandemic.
"This development would not have been possible without great partnership working with our key stakeholders such as Scottish Borders Council, Scottish Government and many others who participated in the research and consultation process which has resulted in this landmark building. This purpose-built extra care development is paving the way ahead for other new developments as we intend to expand our extra care services at the former High School in Kelso and also in Hawick.
"These homes are specifically designed to support older people live independently for as long as possible and remain part of the community. Wilkie Gardens is at the heart of this ethos with its own communal facilities including a lounge, café, hairdresser and gardens where tenants and visitors will be able to enjoy many varied social activities and be truly active in the community.
"This is all part of Eildon's strategy to invest in excess of £120m in the Borders economy, bringing much needed jobs, regeneration and 750 affordable new homes."
Councillor Mark Rowley, leader of Scottish Borders Council, added: "Creating more great homes with vital extra care facilities is central to our commitment to support our older residents to live as independently as possible in their own homes and local communities across the Scottish Borders. I'm exceptionally proud that Scottish Borders Council has been able to make a significant contribution of £1.8m to support the creation of these great new developments.
"Wilkie Gardens is a major addition to that provision and Eildon should be congratulated for delivering such a fantastic collection of homes in the most challenging times with tenants due to move in as soon as January next year, this is already proving to be a popular and highly-sought after development which I'm sure tenants will enjoy and which will also add greatly to the local Galashiels community."
The new self-contained flats provide high quality and accessible accommodation within a safe and secure community setting, designed to meet the changing needs after the age of 60. Care is provided by an Eildon onsite team offering an integrated service with a high degree of flexibility in how individual care and tenancy support is delivered.