Building more social homes could add billions to Scotland's post-pandemic economic recovery, says former RBS chief economist
The economic and wellbeing case for building more social homes in Scotland has been laid out in a major new report by Stephen Boyle, former chief economist at the Royal Bank of Scotland.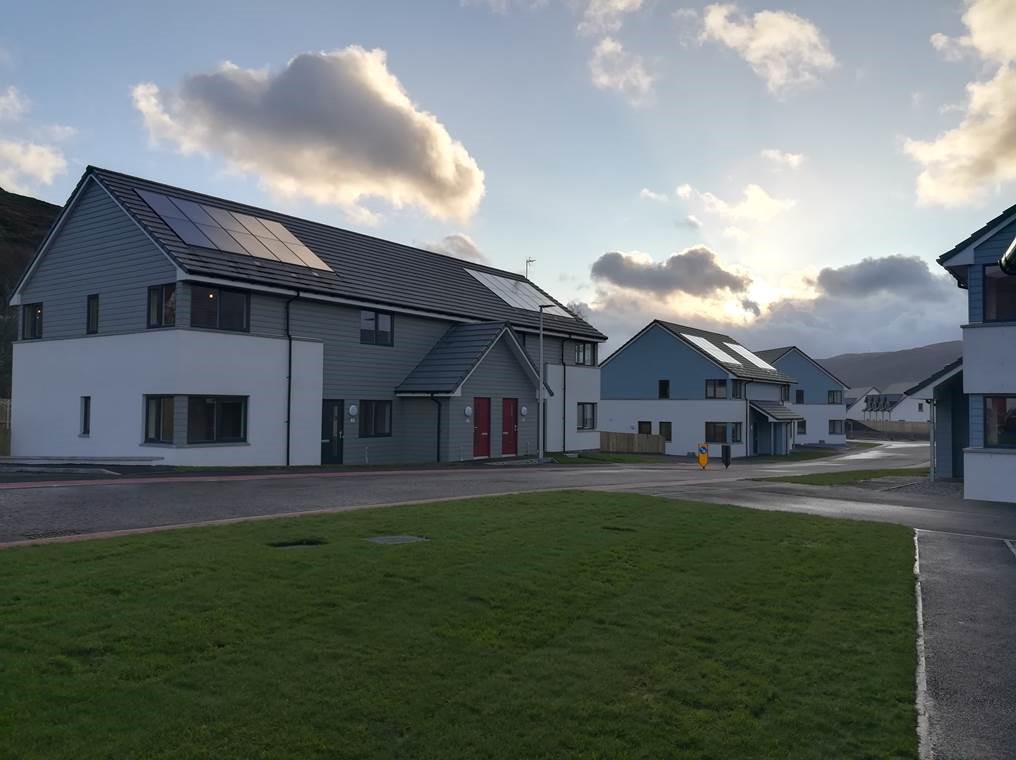 Mr Boyle is calling on the Scottish Government to invest in building more than 35,000 new homes for social rent by 2026, to capitalise on the opportunity to create jobs and boost incomes as well as enhancing health and educational attainment as we emerge from COVID-19.
The report, titled 'A new economic case for social housing', is based on economic modelling from the Scottish Policy Foundation and the Fraser of Allander Institute at the University of Strathclyde, and concludes that an investment in social housing could yield billions in return to Scotland's economy, particularly as Scotland continues to get to grips with the global coronavirus pandemic and the socio-economic consequences.
According to the economic analysis in the report:
Providing houses to people who would have been homeless boosts the supply of labour. That is estimated to add £4.0 billion of gross domestic product (GDP).
When children live in decent houses their educational attainment and health improve making them more productive in later life. That would add £1.5bn of GDP.
Building the houses and maintaining them would add up to £6.4bn of GDP and generate an average of 900 jobs per year.
The analysis uses projections for housing need in Scotland for the next parliamentary term. While the report calls for the building of more than 35,000 new social homes, based on updated projections and continued growth in demand for social housing, Shelter Scotland said this figure is now closer to 37,100 homes and is calling on all parties to commit without delay to building the homes that people in Scotland need.
The independent report, which was commissioned by the housing and homelessness charity, makes the economic case for social housing pointing to long-term positive outcomes. The report claims that this investment would lead to the expansion of the labour force, a boost in national productivity as well as reduced levels of child poverty and increased educational attainment.
Speaking ahead of the launch of the economic analysis report, Stephen Boyle said: "Investment in housing is investment in people in a host of ways, from improving health and education to tackling climate change and reducing poverty. It also delivers much-needed conventional economic benefits of more jobs and higher incomes.
"While social housing is not the silver bullet that alone will lead Scotland to improved wellbeing and prosperity, the good it promotes and the harms it prevents will go a long way to getting us all there.
"COVID-19 has underlined the benefits of good quality housing. People who live in sub-standard accommodation or who are homeless are more likely to develop conditions that compromise their immune systems, while overcrowding can make it easier for infections to spread. Children living in unsatisfactory housing arrangements already suffered an educational penalty.
"School closures are likely to have had an especially adverse effect on them, not least because poor quality, overcrowded and temporary accommodation is not a supportive environment for home schooling. What's more, investing in social housing has the added benefit of boosting jobs and incomes as the economy rebuilds from recession. And we know that a programme of housing investment can be delivered.
"A good quality and affordable home can be the springboard from which children thrive and adults from all walks of life achieve their full potential."
Stephen Boyle added: "Investment in social housing can also deliver long-term economic benefits and enhance Scotland's reputation as a place to live, work and bring up a family. Scotland will be a better country in the round if it invests to provide more social housing."
Research by Shelter Scotland, CIH and the Scottish Federation of Housing Associations found that in order to meet the current housing shortfall, Scotland needs to build at least 37,100 social homes between 2021 and 2026.
Campaigners called for an overall investment of £3.4bn to build 53,000 affordable new homes over the period – 37,100 of which should be for social rent.
During this parliamentary term which will end next May, the Scottish Government has committed to building 50,000 affordable homes - including 35,000 properties for social rent.
Earlier this month, the Scottish Government also warned that Scotland's gross domestic product could fall by 14% in 2020 and may not return to pre-pandemic levels until the start of 2023. An estimated 19% of businesses have been temporarily closed, affecting over 750,000 jobs between those furloughed and the self-employed who are unable to work.
Commenting on the launch of Stephen Boyle's report, Alison Watson, director of Shelter Scotland, said: "We welcome the findings of Stephen Boyle's report, which come at a time of great uncertainly for tens of thousands of families and individuals across Scotland who may worry for their jobs, their wellbeing and their homes.
"However, poverty, homelessness and poor housing are not new, they existed long before the current crisis.
"This analysis, as well as what we're seeing on a daily basis at the sharp end of the housing crisis, shows us that the Scottish Government must do more to deliver the homes people need. While we commend them for building more social homes than ever before, they are in effect running the bath without the plug.
"Scotland needs to build the homes that people need, in places they are needed most. The report shows us that when this happens, we can all benefit through economic and social prosperity. By investing in social homes, we can safeguard the economy and our society against negative impacts such as poverty, trauma and future health crises."
There are currently almost 30,000 homeless households in Scotland and 167,000 people of waiting lists for a socially rented home.