Cassiltoun Housing Association welcomes handover of homes at Castlemilk Drive
Cassiltoun Housing Association has welcomed the first handover of units at its Castlemilk Drive new build project.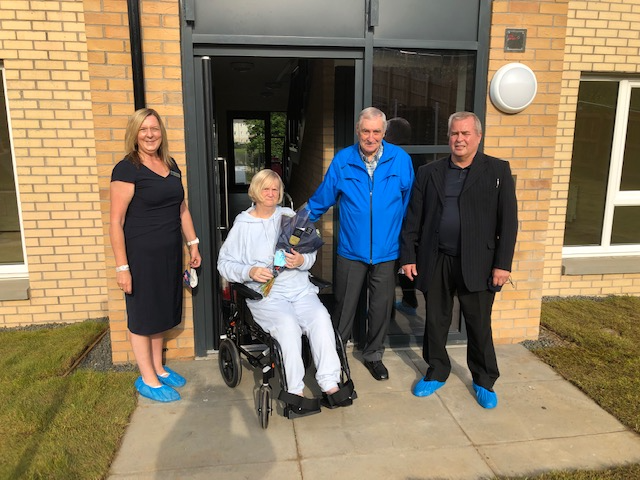 The 60-unit flatted development for social rent is set to be the most popular development yet for the Housing Association, based in the east end of Castlemilk.
The Design and Build project is being delivered by Cruden Homes West alongside its sister company Cruden Building Ltd.
Fiona McGowan, director of operations, and George Kelly, chair of Cassiltoun, welcomed the first of the new tenants, Mr and Mrs McArthur, who have been in Castlemilk for over 50 years. They have been in their 3rd floor home for the last 31 years but their new home on Castlemilk Drive will allow greater mobility for them.
They will continue to be part of the community and still be close to family and friends they have made over the years. They said it will "make a big difference" and "what a view" as the large windows in the living room give a great view over the city.
Clair Malpas, Cassiltoun's CEO, added: "After suffering from Covid related delays on our last development it has been such a joy to watch these 60 new homes being constructed on Castlemilk Drive and to see the first of the tenants move in on schedule and be thrilled with their new homes.
"These properties provide much needed social housing in Castlemilk and we are hopeful that we will be able to continue with our development programme in the near future. We are delighted with the quality of the build and the internal space in the properties.
"Working in partnership with Cruden has also given us to opportunity through the community benefits aspect of the programme to invest in more community activities and provide local jobs and apprenticeships. We would like to thank Glasgow City Council for grant funding through the Affordable Housing Supply Programme and CAF bank for providing the additional funding that made this development possible."
Fraser Lynes, managing director of Cruden Homes West, added: "We are delighted to hear of Mr and Mrs McArthur's positive feedback. Given the current industry wide supply challenges, we are extremely proud of our staff who continue to work tirelessly to deliver a quality product on time. As one of Scotland's largest deliverers of Affordable Housing, partnerships like the one we have with Cassiltoun are the bedrock of our business and the Cruden Group look forward to continuing to deliver for them in the future."
Councillor Kenny McLean, city convener for neighbourhoods, housing and public realm at Glasgow City Council, said: "It is absolutely great to see the first people moving into these high-quality new homes in Castlemilk, and to learn how delighted they are with the positive impact it has made on their lives. This development has been built to the Glasgow Standard, which guarantees a higher quality of home, with lower energy bills. We are pleased to have supported this development, and I am sure all the new tenants will enjoy living there."
The project is set to continue with a phased handover with full completion scheduled for May 2022.