England: Gove cuts funding to Rochdale Boroughwide Housing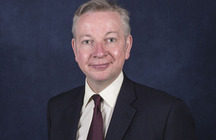 Levelling-up secretary Michael Gove has said that failing social housing providers in England will not receive future funding after it was revealed he is to cut off £1 million funding to Rochdale Boroughwide Housing (RBH) following the death of a toddler from prolonged exposure to black mould.
Yesterday Mr Gove said RBH would get no further government funding from the Affordable Home Programme or receive any new contracts in wake of the ruling.
The minister has also pledged to block new funding to other housing providers found to be failing tenants and revealed a new £14m fund for enforcement teams to inspect private landlords, The Guardian reports.
"RBH failed its tenants so it will not receive a penny of additional taxpayers' money for new housing until it gets its act together and does right by tenants," Gove said.
"Let this be a warning to other housing providers who are ignoring complaints and failing in their obligations to tenants. We will not hesitate to act. Everyone deserves the right to live in safe, decent home and this government will always act to protect tenants."
Last week, a coroner's inquest found that a mouldy home contributed to the death of two-year-old Awaab Ishak, who died as a result of a severe respiratory condition in December 2020.
Rochdale Coroner's Court heard Awaab's father Faisal Abdullah reported mould developing in the one-bedroom flat to RBH in 2017 and was told to paint over it.
The following year, Awaab was born prematurely at 31 weeks, but there had been no concerns from any health professionals about his development.
In June 2020, Mr Abdullah instructed solicitors and initiated a claim over the recurring mould issue, but policy meant any repairs would not be done until an agreement had been reached.
The court heard Awaab was taken to Rochdale Urgent Care Centre on 19 December that year suffering shortness of breath and transferred to Royal Oldham Hospital before being discharged.
He deteriorated the next day and his parents were advised by the community children's nursing team to take him back to the urgent care centre.
He then went into respiratory arrest and cardiac arrest while being transferred to hospital and died after arriving there.
Gareth Swarbrick was fired as chief executive on Saturday by the RBH board, just days after a defiant statement confirming that he will not resign despite the growing pressure from ministers and MPs.
Mr Gove is set to meet officials from RBH in Rochdale today, amid a call from the local authority for the landlord's 12,000 homes to be transferred to council control.
Responding to the £1m grant cut, a spokesperson at RBH: "We are completely focussed on our existing homes and we welcome the opportunity to work with the regulator on that."
Rhys Moore, director of public impact at the National Housing Federation, said: "We understand the secretary of state's interest in ensuring organisations that receive funding for new social housing are also providing existing tenants with good quality homes and services."