Finalists announced for TIS National Excellence Awards 2019
TIS Scotland has revealed the shortlist for its annual awards which recognise excellence in everything from, partnership working and scrutiny practice, to digital innovation and community regeneration.
The TIS National Excellence Awards: Inspire to achieve, in association with the Scottish Government, honour and celebrate housing organisations, staff, volunteers, tenants, residents, and community groups who are leading the way and making a difference within the Scottish social housing sector.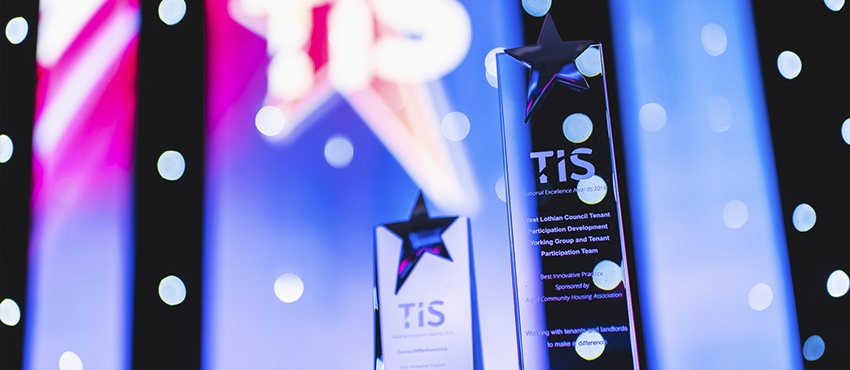 The awards categories offer a seal of approval for the most outstanding work across the sector.
This year, TIS, received an impressive response and welcomed high quality nominations across all eight award categories. Finalists were selected from a longlist of applicants by an independent judging panel that included representatives from Eildon Housing Association, Dundee City Council, and East Lothian Tenants and Residents Panel.
TIS chief executive, Ilene Campbell, said: "Each year applications get better and better and this year was no different. The exceptional quality of entries really shined through and this strength highlights the fantastic developments that organisations are taking to lead the way throughout the sector."
Finalists from across Scotland make this year's shortlist a hotly anticipated contest in a bid to receive one of eight prestigious trophies. The award ceremony and Gala Dinner will take place on Saturday 15th June 2019 at the Westerwood Hotel and Resort, Glasgow and will be presented by Scottish actor and comedian, Gary Lamont.
The event is ticketed and includes a three course Gala Dinner and evening entertainment. Please contact, Fawn Russell, on frussell@tis.org.uk or telephone 0141 248 1242 to reserve your place.
Young Achiever of the Year - Sponsored by Tenants and Residents East Ayrshire
Leah Hays, Who Cares? Scotland
Jamie Louise Halkett, Glen Oaks Service Improvement Group
Tenant Participation Champion - Sponsored by the Scottish Government
Agnes Ramage, South Lanarkshire Council
Neil McCulloch, East Ayrshire Council
Deborah Piner, East Lothian Council
Ryan Davidson, Govan Housing Association
Excellence in Digital Innovations
Thenue Housing Association
Aberdeen City Council
Queens Cross Housing Association
Danny Mullen Scrutiny Excellence - Sponsored by West Lothian Tenants Housing Network in Partnership with West Lothian Council Tenant Participation Team
Estate Inspection Working Group, East Lothian Council
Our Approach to Scrutiny, South Lanarkshire Council
Editorial Panel, West Lothian Council
Excellence in Regeneration - Sponsored by CIH Scotland
Harkness Crescent Tenants and Residents Group, East Lothian
EAC and CANI Community Group, East Ayrshire
Frances Nelson MBE Excellence - Sponsored by Dundee City Council
Stephen Byrne, Kintyre Alcohol & Drug Advisory Service
Bruce Cuthbertson, Tenants and Residents East Ayrshire
John McKenzie, Tenants and Residents East Ayrshire
Most Inspiring Scrutiny Group
Scrutiny Panel, West Dunbartonshire Council
NETRALT, Grampian Housing Association
Tenants and Residents East Ayrshire
Cunninghame Scrutiny Group
Tenants Group of the Year - Sponsored by the International Union of Tenants (IUT)
Al Nour Community Group, West Lothian
East Lothian Tenants and Residents Panel
Campbell Area Tenants & Residents Association