Ian McLean retires as Bridgewater Housing Association chief executive
Bridgewater Housing Association has announced the retirement of its first and long-standing chief executive Ian McLean.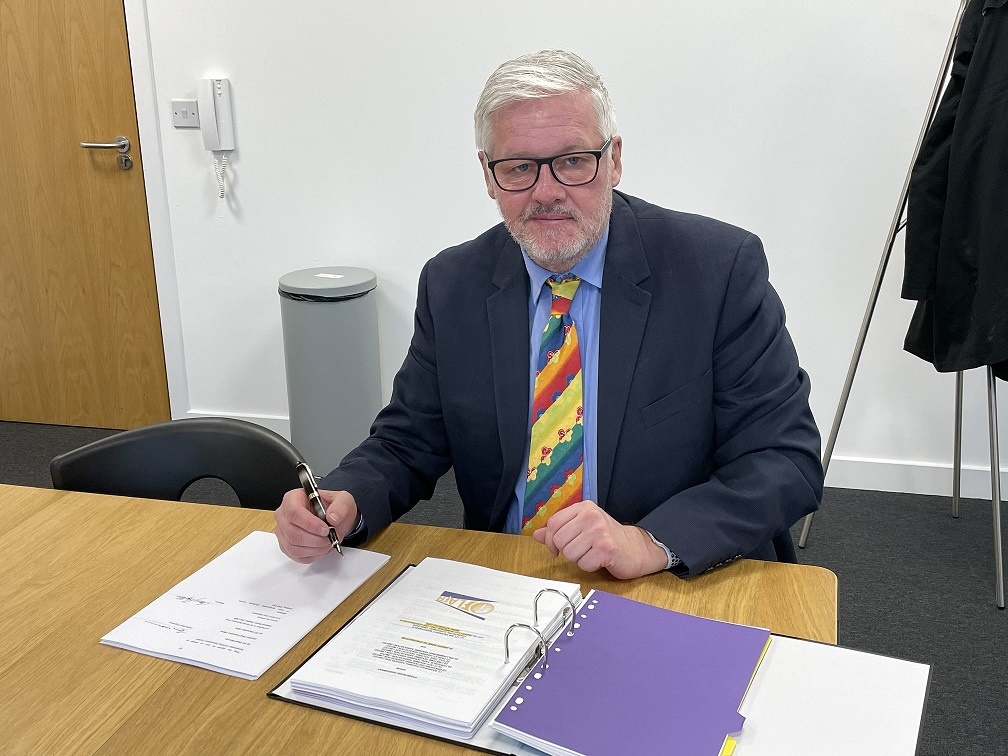 Ian joined Bridgewater 24 years ago, as a fresh-faced thirty-odd year old, after two years with Dumfries and Galloway Council as a neighbourhood housing manager based in Stranraer and following a varied 15-year career with Glasgow City Council's Housing Department.
As Bridgewater's first senior officer, following the stock transfer from Scottish Homes, there were many challenges for Ian and his new team to deal with and especially for someone who had not worked for a housing association before. The board of Bridgewater were not disappointed in their choice and the boards, staff teams and the Association as a whole have benefited enormously from Ian's professionalism, easy nature and passion about social housing.
Bridgewater said it has matured along with Ian, and is grateful for Ian's leadership, expertise, support, and advice over the past 24 years.
Alastair Morris, the current chair of Bridgewater, remarked: "I am the fourth chair of Bridgewater who has worked with Ian. All our board members over the years have been grateful for the support Ian has provided us with, the friendship and respect Ian has shown us, and the position Ian has helped to place Bridgewater in the housing community.
"More importantly and on behalf of Bridgewater's tenants and other customers I would like to thank him for his focus on service and for trying to make peoples experience of Bridgewater, whether customer, visitor or staff, the best it could be. I am sure the Association will be a very different place without him, but we wish him all the very best in his retirement and he will leave us in a great place to build on his legacy."
Ian said that he was very grateful for the opportunities which Bridgewater had given him.
He added: "Being chief executive of Bridgewater has been one of the greatest honours of my career. Definitely 'up there' with being elected chair of the Chartered Institute of Housing in the early 2000s.
"Housing has been less of a career for me and more of a vocation and I am grateful that Bridgewater gave me the opportunity to indulge that vocation. I have worked with so many wonderful board members, some of whom, sadly, are no longer with us, who I learned a lot from. Willie Robertson who died last year and who was our first chair was my greatest teacher and was able to bring me down to earth when I was getting ahead of myself. I still miss him. Jan Healing, similarly, kept me on my toes. Angela Westrop knew as much about housing as I did, and Alastair Morris, never lets me forget the voice of our tenants.
"There's a lot for me to be proud of during my time at Bridgewater but worthy of a mention here is the Association's three new build developments, two of which are Extra Care facilities – and this from an Association, which I was told by Scottish Homes in 1998, wouldn't ever get development funding. The introduction of Extra Care housing in Erskine meant that many people who had lived in the town all their lives, could continue to live there when they became too frail to live independently.
"The support and foresight of colleagues at Communities Scotland (Anne-Marie Thomson), mean that they share in that success. I am also proud of the Association's Barholm development, the first new build mainstream social housing in Erskine since the late 70's/early 80s and I leave Bridgewater having facilitated the creation of a Care and Repair Service which now covers three local authority areas The Association's corporate services manager, Scott Curry was responsible for this. I mostly let it happen.
"All our chairs have been very supportive to me, and all have shared with me an ambition for Bridgewater and for what the Association is capable of. I am sorry that it won't be me taking the Association on to its next challenge, but the time is right for someone else to do that."
Ian will leave the Association early in the new financial year. The post of chief executive at Bridgewater is currently advertised, and the board would love to hear from anyone who wishes to join Bridgewater in the next stage of its exciting journey.