Local poet honoured at new Moray housing development
A new social housing development has been named in honour of a local Moray poet.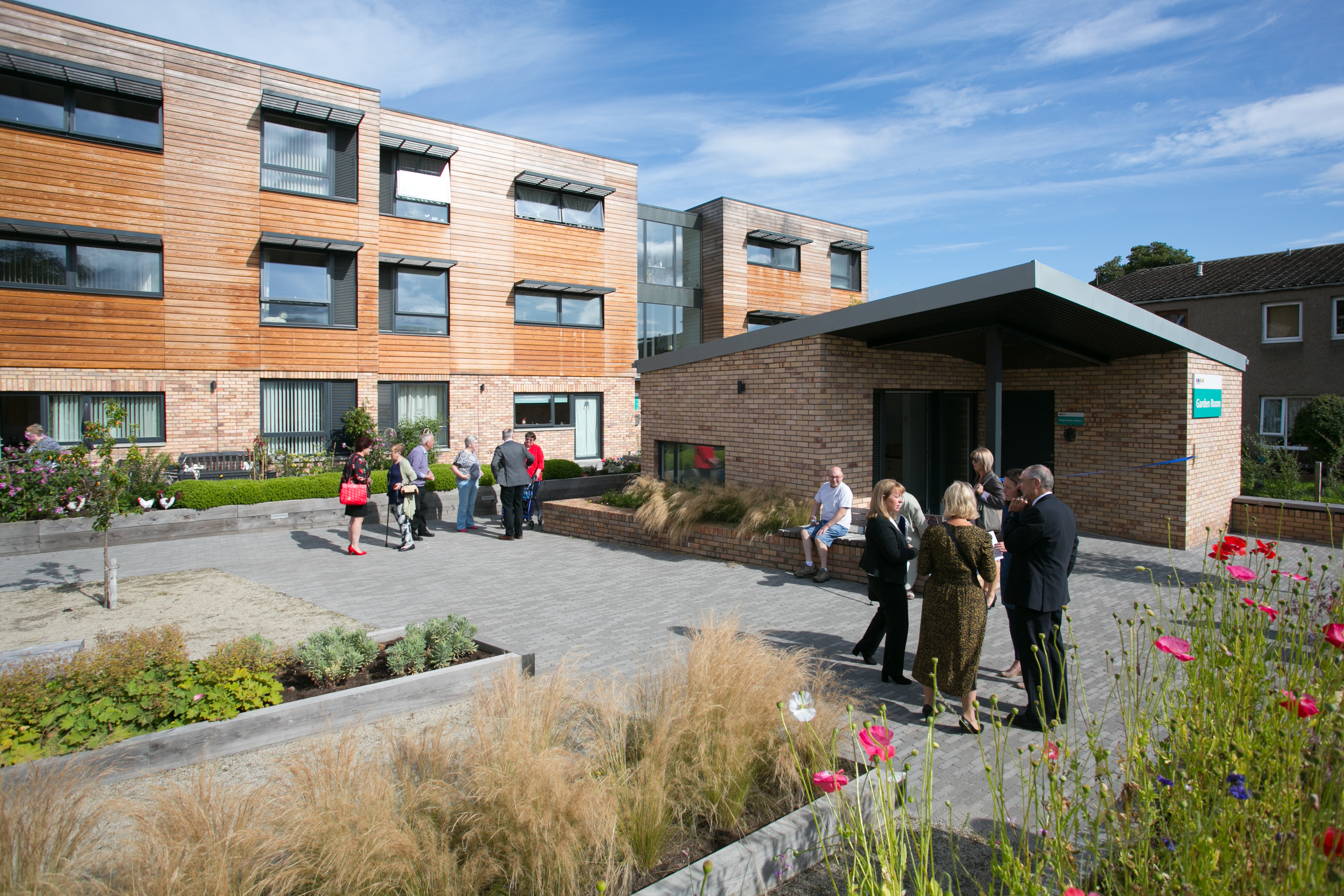 Avril Wilbourne, daughter of Elgin poet, Jessie Kesson, opened Hanover (Scotland) Housing Association's new Kesson Court development this week. She was joined by staff, residents and local dignitaries including Richard Lochhead MSP.
Kesson court has replaced a previous Hanover development which was demolished and has been entirely rebuilt. The new development is made up of 18 amenity flats and 3 wheelchair properties. These properties recently collected three awards at the Saltire Housing Awards. Kesson Court won the Saltire Housing Design Award, CIOB Building Award and the Saltire Medal.
Each home is fitted with a heat interface unit (HIU) from a centralised boiler, providing instantaneous direct hot water and indirect secondary heating. This has removed the need for individual gas boilers and will provide residents with an efficient and easily manageable heating system. Kesson Court also contains a communal garden, which aims to encourage outdoor activity and socialisation amongst residents and staff.
The decision to name the site after Jessie Kesson was taken after a public naming competition. Kesson was selected because of its reflection of the local area and its welcoming nature.
Chief executive of Hanover, Helen Murdoch, said at the opening: "We are delighted to today be opening Kesson Court, the latest of a number of new developments we have opened in Moray recently. We are particularly pleased to have Avril with us to help us celebrate today. Her mother was a very well-known local poet so we are delighted local people chose to name this development after her. In our 40th anniversary year, Hanover is not only reflecting on our past but looking to the future and the innovative measures we want to take to provide active, independent lifestyles for our residents and Kesson Court is only the latest part in that journey. We are pleased that Richard Lochhead MSP could also join us to see the positive impact the new development is having on the area."
Jessie Kesson's daughter, Avril Wilbourne, said: "My mother loved Elgin and the rest of Moray so it is a pleasure to be here to celebrate the opening of Kesson Court. I know she would have been thrilled that her work had such an impact on local people to the extent that the community wanted her to be remembered in this way. I am sure the new residents at Kesson Court will enjoy living in their homes here and look forward to visiting again in the future."
Richard Lochhead MSP said: "Kesson Court is an impressive development that provides modern and innovative housing for its residents and is certain to be enjoyed by those who both live and work there. This impressive new housing development will provide residents with the opportunity to live active lives and will help boost their physical and mental health. Jessie Kesson was a much-loved poet and writer by people in Moray and it is fitting that such a welcoming development has been named after her. It was a pleasure to join her daughter Avril at the opening of Kesson Court and I hope the residents enjoy their new homes."