Loreburn Housing Association's In-House Repairs Team awarded 'Team of the Year'
Loreburn Housing Association's In-House Repairs Team have been announced as 'Team of the Year' at the 2021 Housing Heroes Awards.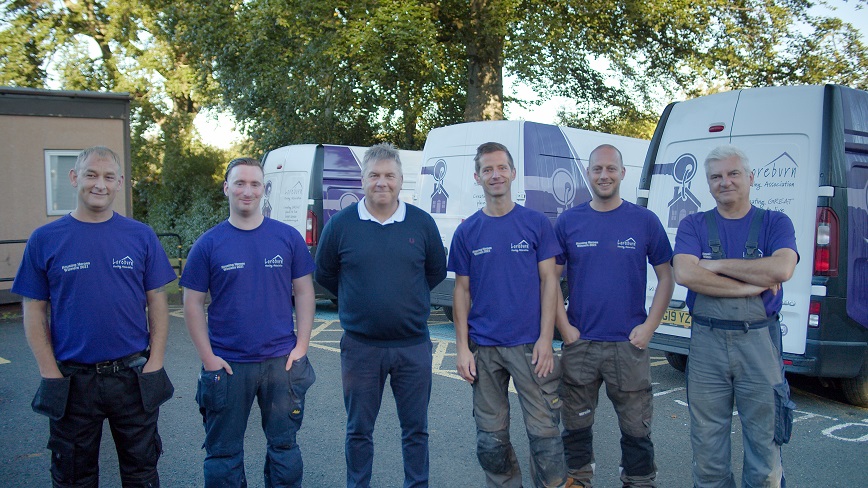 The awards exist to celebrate the achievements of social housing providers and to shine a light on the hard work carried out across the housing sector over the last 12 months.
The prestigious national awards ceremony was held during the first night of the Housing 2021 conference – the biggest housing event in Europe.
Neil Smith, maintenance supervisor, said: "We couldn't be more thrilled to win Team of the Year. Even during these challenging times, the IHR team have ensured our customers remain safe, warm and cared for.
"Winning the award not only recognises the hard work of the Repairs team, but that of the wider Loreburn family.
"This would have been impossible without the support of our colleagues; this achievement was a team effort."
The ceremony, run by Inside Housing and the Chartered Institute of Housing, took place on Tuesday 7 September and the team won in front of an audience of 650 housing professionals.
The judges thought the In-House Repairs team exemplified tangible achievement with their track record of continually going above and beyond for Loreburn customers.
Judges were particularly impressed with the 'thinking outside the box' approach in terms of connectivity with, and support of, disabled customers.
Winning the category is a fantastic show of appreciation for the hard work and perseverance demonstrated by every member of the team.
Lorraine Usher, chief executive, said: "Everyone at Loreburn is delighted our In-House Repairs Team are the Chartered Institute of Housing Team of the Year.
"The team worked throughout the COVID-19 pandemic, going beyond their day jobs, to support our vulnerable tenants with prescriptions and food shopping.
"Teamwork is at the heart of Loreburn, the award is richly deserved, and we are all proud to work alongside them."