Paisley Housing Association hosts innovative craft workshops
Paisley Housing Association held a number of innovative craft workshops to build confidence and develop new skills among local people.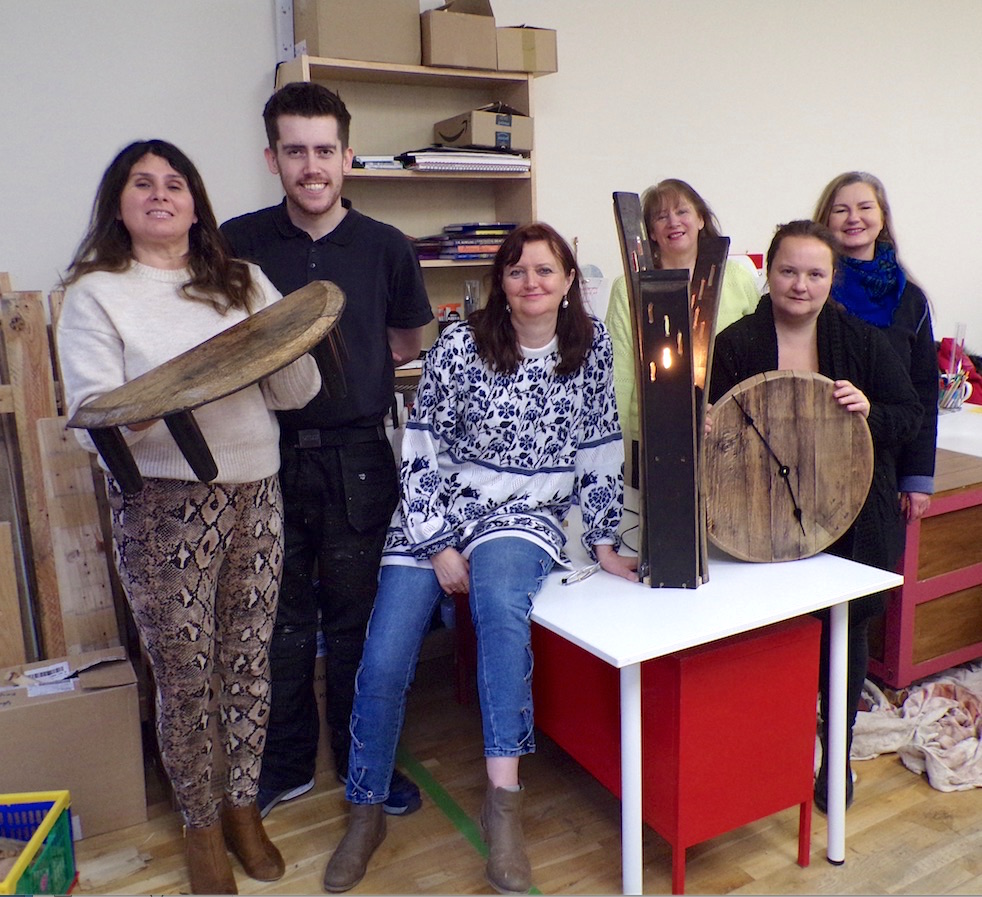 A six-week craft-making course delivered by the Association in the heart of Paisley has been a stunning success - prompting huge praise from those taking part.
The free course invited local people to participate in the workshops and at the end of the six weeks provided something to show for their efforts.
They included an impressive wooden clock, lap tables and a stylish and unique lamp – all, remarkably, made from old barrels.
This was in keeping with the location for the workshops at the "Uphub Works" shop in Paisley High Street which is doing a brisk trade in the run-up to Christmas selling recycled and upcycled products.
It offers a mix of modern, retro, and vintage furniture, as well as various items from local artists and businesses including handcrafted jewellery, homemade soaps, artistic prints and greeting cards.
Duncan Clelland, co-ordinator of Paisley Housing Association's West End Transformation Project, said: "The West End Project is all about enhancing the environment for our residents so working with UpHub Works couldn't have been more appropriate.
"Our aim with participants was to help them build confidence and acquire new skills and the feedback we have received has been hugely positive."
The craft workshops were an extension of the association's "West End Transformation Project" – its biggest ever drive to improve the local environment - notably by the improvement of back courts.
Paisley secured vital funding from the Scottish Government's "Aspiring Communities Fund" to enable it to undertake the environmental project AND at the same time establish an employability and training- focused landscaping team to deliver the project.
Mr Clelland added: "We are extremely grateful for this funding which has had far-reaching benefits for many people providing opportunities to residents to participate. These included working with our architect to co-design back court improvements to building skills and developing new friendships."
Two workshop participants are daughter Tracey Di Bona and her mum, Janet Griffiths.
Tracey said: "This was a great experience. I have always had an interest in recycling and upcycling and to be able to join this project has been a wonderful opportunity."
Ms Griffiths said: "It was immensely enjoyable and I learned a lot. There was a great atmosphere among those taking part and we are very grateful to the housing association for making it happen."
The participants worked under the supervision of skilled carpenter Stuart Ferguson who runs his own business creating bespoke items - often by commission.
Mr Ferguson said: "All those involved were eager to learn and the initiative was undoubtedly a great success. It is something that would be well worth repeating."
Kathleen McCutcheon, chief executive of Paisley Housing Association, added: "We know how important the role of our housing association has in this community. It is very rewarding indeed to see a successful project engage local people in gaining new skills and building confidence in such a worthwhile and enjoyable way."