Plan for one million zero emission homes by 2030 is 'ambitious' but detail needed on delivery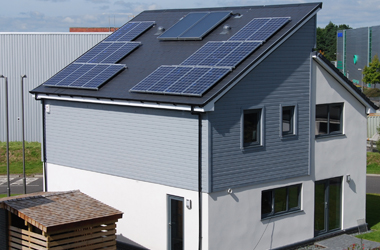 Over a million homes in Scotland need to be upgraded to low carbon heating by 2030 to ensure the Scottish Government meets its statutory climate change targets, according to an updated plan published yesterday.
The Climate Change Plan 2018 – 2032, which has been updated to reflect the world's most ambitious framework of climate targets as enshrined in Scotland's Climate Change Act 2019, contains more than 100 new policies and proposals to support Scotland's green recovery and help deliver a just transition to net zero.
The Existing Homes Alliance Scotland has welcomed the proposal but warned that the proposals risk not delivering the transformation needed quickly enough.
Lori McElroy, chair of the Existing Homes Alliance, said: "This is an ambitious plan but that's what is needed. Last week the UK Climate Change Committee said that Scotland's world leading 2030 emissions target is going to be really challenging – the messages coming from this updated plan are promising and we look forward to seeing the detail in the Heat in Buildings Strategy early in the new year.
"The plan, which includes commitments to new regulation, support and the doubling of zero emissions heat technologies year on year up to 2025, is good news for the climate and for creating and sustaining thousands of green jobs as we recover from the impacts of the global pandemic.
"We are, however, concerned that the target to ensure that all buildings are energy efficient by 2035 is not ambitious enough. We believe that, to meet climate change and fuel poverty targets, homes need to have an Energy Performance Certificate rating of at least C by 2030, and these standards must be introduced early so homeowners, landlords and businesses know what's expected of them and can make the changes needed.
"We are now entering a really exciting time where we are going to be improving over 100,000 Scottish homes on average each year – making them warmer, healthier and more affordable to live in. It's good to see a commitment to introducing standards and regulation alongside support, but details are lacking and getting that balance right will be critical in achieving the targets."
Lori McElroy added: "We welcome the plan's focus on making sure no one is left behind on the journey to net zero by boosting fuel poverty programmes – we believe that investment in these programmes needs to double from next year to meet the anticipated rise in demand.
"We also welcome the proposal to develop a large-scale public engagement campaign and the commitment to investing in innovation - our members look forward to working with the Scottish Government on these."
Lori McElroy added: "This is a really positive opportunity to transform our cold and draughty homes, end fuel poverty and cut emissions on our journey to net zero - we are looking forward to more detail to ensure delivery."
The Plan, which also increases the ambition of more than 40 other policies to cut greenhouse gas emissions across all sectors, includes:
the launch of a £180m Emerging Energy Technologies Fund (EETF), that, over the next five years, will support the development of Scottish hydrogen and Carbon Capture and Storage (CCS) industries, and support the development of Negative Emissions Technologies (NETs)
additional funding of £120m for zero emission buses to accelerate the decarbonisation of Scotland's bus fleet and support the Scottish supply chain.
£50m to support the creation of Active Freeways to provide sustainable transport links between our towns and cities
£50m to transform vacant and derelict land, ensuring that this land is utilised for maximum environmental and community benefit.
reducing the number of kilometres travelled by car by 20% by 2030 In line with the vision and priorities of our new National Transport Strategy,
phasing out the need for new petrol and diesel cars and vans by 2030, in line with UK Committee on Climate Change advice
plan to help create one million zero-emission homes by 2030
a Waste Routemap to 2030 and beyond, including consulting on a ban on all biodegradable non-municipal waste being sent to landfill, also in line with UK Committee on Climate Change advice
nature-based solutions also form a key part of the updated Climate Change Plan. The Scottish Government recently announcing an additional £500 million of investment in our natural economy, with peatland restoration and woodland creation helping to enhance biodiversity and create good, green jobs whilst tackling climate change.
To support the delivery of the updated Plan, a revised Draft Public Engagement Strategy has been published for consultation.
Climate change secretary Roseanna Cunningham said: "Our commitment to tackling the twin-crises of climate change and biodiversity loss is unwavering and is central to our green recovery from the COVID-19 pandemic.
"Scotland has the most ambitious climate legislation in the world. Our 2030 target of 75% reduction goes beyond what the Intergovernmental Panel on Climate Change says is needed globally to prevent warming of more than 1.5 degrees. It is therefore rightly ambitious and extremely stretching.
"Our Climate Change Plan update sets out the policies that will be introduced, boosted or accelerated in light of the new targets, and will support green recovery.
"In developing this plan, we have sought expert advice and engagement from key stakeholders and will continue to do so.
"These policies and proposals set us on a pathway to a just transition to net zero. This journey will not be easy. We know there are factors we can't control, including technological advances and the limits of devolved power. We will need to be innovative, to learn as we are going and to utilise new and exciting technologies and ideas, seizing on the multiple benefits our journey to net zero presents. We also need the UK Government to match not just our ambition but our action.
"Responding to the Global Climate Emergency is a truly national endeavour and we must all play our part. It will require the UK Government, businesses and indeed our whole society to contribute to the transition and deliver the change that we need.
"As we look ahead to COP26 in Glasgow in 2021, we must also remember that we need this spirit and commitment to be applied internationally."
Trade unions and environmentalists in the Just Transition Partnership have criticised the draft Climate Change Plan for failing to show how it will ensure creation of new green jobs and protect the livelihoods of impacted workers and communities in Scotland.
Despite the frequent references to and the welcome aspiration for a just transition in the document, the group said the updated Climate Change Plan does not set out how ministers intend to support the workforce, employers and communities as part of the shift to a low carbon economy.
The Climate Change (Scotland) Act 2019 requires ministers to "set out [their] proposals and policies for supporting the workforce, employers and communities in those sectors and regions". Ministers have argued that the draft plan, which sets out how emissions reductions are to be achieved to 2032, is an update to the existing Climate Change Plan therefore falls under the 2009 Climate Change Act. However, advisory body the Just Transition Commission expressly recommended that just transition provisions of the 2019 Act should be applied to the update.
Dave Moxham, deputy general secretary of the Scottish Trade Union Congress, said: "We know from past experience that promises of green jobs are easily broken if they are not followed up with policy action. While the plan contains a number of references to green jobs forecasts from industry bodies, there appears to be little new analysis from the Scottish Government on how this plan will impact on workers.
"Although there is reference to environmental conditionality, there does not appear to be specific proposals to ensure that low-carbon and renewable energy companies actually deliver good quality jobs in the Scottish supply chain. Nor are there proposals to ensure that Scotland's public sector benefits from the green industrial revolution and the profits are not simply captured by multinational companies."
Mary Church, head of campaigns at Friends of the Earth Scotland, added: "The Scottish Government's failure to set out how they will support the workforce in moving to a zero carbon economy as part of this climate plan, despite the express recommendation of the Just Transition Commission, exposes how empty the rhetoric is.
"This plan sets the framework for cutting carbon emissions in Scotland over the crucial next decade for climate action, but the work to deliver a transition that protects the livelihoods of workers and communities can't wait 5 years until the next climate change plan kicks in, it has to start now. We urgently need to see a concrete Just Transition Action Plan with targets and timescales for reducing emissions, investment and job creation, across sectors and regions, putting communities and workers at the heart of the move to a zero carbon economy."
Responding to the publication, Fabrice Leveque, head of policy at WWF Scotland, said: "This plan builds on recent positive commitments from the Scottish Government but falls short of delivering some of the big decisions needed to truly respond to climate change as an emergency.
"It paints a good picture of the changes we need to see implemented this decade- a million homes converted to renewable heating, a reduced reliance on car travel and significant emissions cuts from our agriculture sector. These steps will cut carbon, create jobs and bring other benefits like cleaner air and better health.
"However, opportunities to advance important policies in key emitting sectors have been missed. Detail on the actions required by the farming sector is lacking, and the earlier date of 2035 to bring all homes to a good standard of energy efficiency is still five years later than we need to help that industry grow today. This is not the pace of action required by the climate emergency.
"On the plus side the plan adds to the genuine cross-Government approach taken since the First Minister declared a climate emergency in 2019. We're now about to enter 2021, the year Scotland will host the global climate negotiations, and we've still got a mountain to climb here at home if we're to meet our own climate targets.
"While it is disappointing to see missed opportunities in this plan, the Scottish Parliament will scrutinise it in the new year, and we hope this will be an opportunity to push for further detail on some of these proposals."
Morag Watson, director of policy at Scottish Renewables, said: "Today's update to Scotland's Climate Change Plan addresses a number of barriers which Scottish Renewables and its members have identified as barriers to net-zero, and as such its publication is warmly welcomed.
"In particular, a commitment to ensuring Scotland has a flexible, responsive electricity system powered by renewables is good news, as is a pledge to reduce timescales for granting planning consent for complex electricity generation and energy transmission infrastructure upgrades.
"We are also pleased to see the introduction of a framework of support to deliver a step-change in emerging technologies and support the commercialisation of renewable energy generation, storage and supply.
"On heat, confirmation that Scotland will be participating in the UK Clean Heat Grant will support the uptake of heat pumps – good news for homeowners, particularly in rural areas, who currently pay a disproportionate amount for heating – as well as Scottish manufacturing of the technologies needed to tackle climate change."