Social Housing Resilience Group revises restarting services guide as lockdown eases
Following the move to Phase 3 of the Scottish Government's routemap out of lockdown, the Social Housing Resilience Group (SHRG) has revised its Guide to Restarting Services to reflect the changes.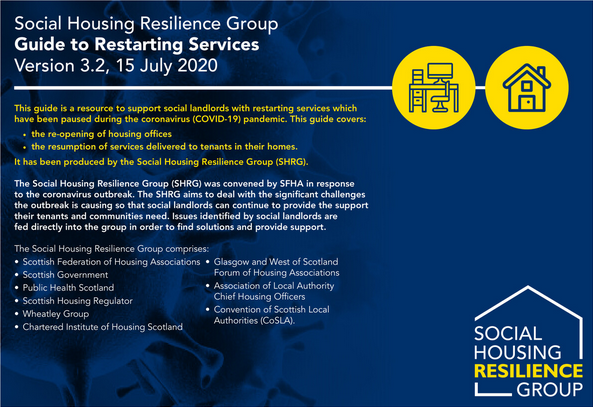 Initially published on June 10, the guide aims to help social landlords restart services that had been paused due to COVID-19.
The guide covers the following topics:
the re-opening of housing offices
the resumption of services delivered to tenants in their homes.
Version 3.2 updated on July 15 covers:
Update to Phase 3 guidance for non-essential offices (p4)
Update to office re-opening example route map (p5)
Additional link to guidance for micro and small businesses (p8)
Update to face covering guidance (p11)
Update to Phase 3 guidance for services to tenants in their homes (p17)
Update to construction sector guidance (p17)
Updates to Scottish Government guidance on moving home (p17)
Updates to ALACHO/PHS guidance on void properties (p17)
Addition of communications from Kevin Stewart MSP including letter on meeting statutory and regulatory targets during the pandemic and letter to social housing tenants (p17)
Update to PPE usage (reference to Phase 4 of construction sector re-start) (p24)
Download the guide to restarting services by clicking here.
Read all of our articles relating to COVID-19 here.