Tenants receive keys to new homes at former East Dunbartonshire Council HQ site
The first tenants have received the keys to their brand new homes as the initial phase of East Dunbartonshire Council's Tom Johnston House site development in Kirkintilloch is now complete.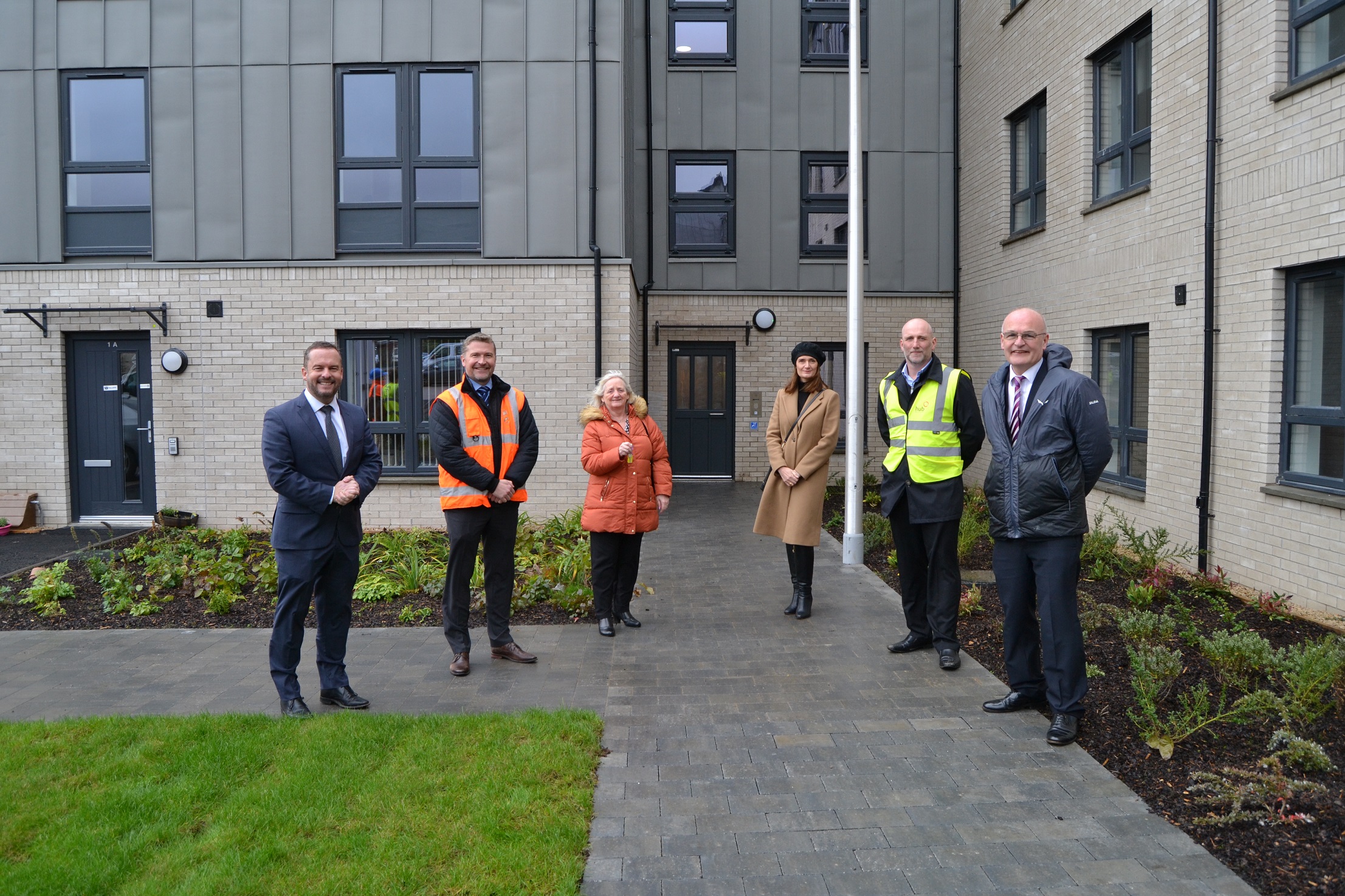 Catherine Cole is now a proud resident of the swish newly-built property which has views across Woodhead Park. Mrs Cole's flat is one of 87 new properties which enjoy a prime site in the heart of the community.
Mrs Cole, 69, said, "I'm really looking forward to being part of the community here. I've spoken to a couple of the neighbours already and they seemed very nice.
"What I am most delighted about is having a separate kitchen, which we didn't have before. The landscaping outside the flat is really lovely and we've also got views across the park, so we're not overlooked by other houses which is ideal.
"The entrance is a small vestibule with only four flats coming off it, not a big long corridor, so it feels more like sheltered housing, which I really like."
Five shared equity properties and 82 social rented flats and houses make up the development. The build is in partnership with hub West Scotland, with whom the council has previously partnered on successful projects including Holy Trinity Primary School and the revamped Kirkintilloch Town Hall.
Joint council leader Vaughan Moody said: "It has been wonderful to watch this smart new development appear over the last two years. Once complete, it will greatly enhance what had been an empty brownfield site for some time. It also marks a huge step forward in addressing the continuing need for more social housing in the area."
He added: "It is a really great location, within an area offering a leisure centre, park, supermarket and good public transport links. I wish the new tenants and homeowners all the very best in their homes."
In October 2018, the council engaged hub West Scotland to procure design services and a building contractor for the proposed project. The public were able to view proposals and give feedback at an exhibition held by the council's Housing Team back in March 2019. Building started in August 2020 and the full site is due for completion in early 2022.
Joint council leader Andrew Polson added: "We are so pleased to see the first phase of this landmark site completed and residents being able to move in and make their home here. Despite all the challenges thrown up by the pandemic, work has continued here at a great pace.
"This elegant building breathes new life into the area and, having had a look around inside, the flats are very impressive with big, bright rooms and plenty of storage space."
Iain Marley, CEO of hub West Scotland, said: "We are thrilled to be able to hand over the first of 87 high-quality new homes to East Dunbartonshire Council and their tenants. This high-quality development has transformed a brownfield site and brings affordable homes and a host of other significant benefits to the community. Our thanks go to the Council project team, CCG and all our partners for collaborating so effectively and successfully to deliver the project under such testing circumstances."
Designed by Mast Architects and G3 Consulting Engineers, the new development provides a mixture of one, two and three-bedroomed flats and houses. It has been constructed by CCG (Scotland).
CCG managing director, David Wylie, added: "As a result of CCG's advanced construction methods, each of the homes at Civic Way has been delivered to the highest quality and energy efficiency standards whilst job creation, curriculum support for schools and investment will create a legacy for the local community. It is a fantastic development for Kirkintilloch and on behalf of CCG, I extend my best wishes to the new residents and look forward to seeing the project advance to completion over the coming months."
hub West Scotland also employed NBM Construction, which acted as cost consultant and principal designer on the project.