Glasgow council leader visits Moda at Holland Park
The leader of Glasgow City Council, Susan Aitken, has visited the site of Holland Park, Moda Living's state of the art build to rent neighbourhood in the city's cultural district which is currently being built.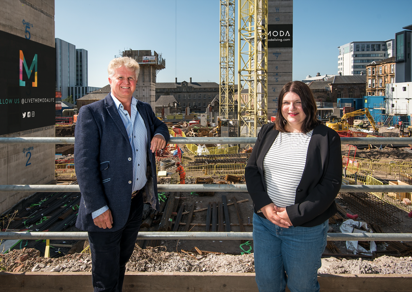 Holland Park will deliver 433 new high-quality homes for a community of around 900 people to the city. Set across four buildings ranging from six to 22 storeys in height, the neighbourhood surrounds a new courtyard which will be open to the public during the day.
In addition to the studios and one, two- and three-bedroom homes, Holland Park will feature a market-leading selection of resident amenity spaces. These will include a 24h gym, a rooftop terrace, a residents' lounge, private dining and dedicated co-working space. The £130 million neighbourhood will also feature 15,000 sq ft of lettable commercial space. With secure long-term tenancies of up to five years on offer, Moda is aiming to cater to a broad demographic of residents let down by the current rental market and looking for a better living experience.
Councillor Aitken toured the site of Holland Park and spoke with Moda Living about the new homes plus the employment and economic opportunities Moda will bring to the area.
Committed to regeneration and supporting its local communities, Moda Living prioritises working with local businesses and employing people from the surrounding areas. The site is currently under construction via Robertson Group, and of the 100 construction team members currently on site, over 75% have been recruited locally.
Moda Living will also play a role in the wider transformation of Glasgow through its work with Glasgow City Council's £136m Avenues programme.
With Holland Park intertwined with areas targeted by the project, Moda is investing in the project alongside the city council to deliver significantly improved streets, public realm and green infrastructure around the Holland Park site, to be enjoyed by the city's residents and visitors. Last year the council pledged to increase the city centre's population from just over 20,000 to 40,000 by 2035; the initiative formed part of its City Centre Living Strategy.
Tony Brooks, Moda Living managing director, said: "It was an honour and a pleasure to have Councillor Aitken join us on site at Holland Park. The neighbourhood is bringing a new quality of rental living to Glasgow as well as providing the city with transformed public realm and streets.
"Moda Living is dedicated to the communities we build our neighbourhoods in, and it was a pleasure to discuss the ways in which we are, and can continue, to support the growth and prosperity of this wonderful city."
Glasgow City Council Leader Susan Aitken added: "We want our city centre to be as vibrant, connected, sustainable and modern as it can be and attracting more people to live there is critical to that. We're also passionate about facilitating and helping deliver high quality investment into Glasgow.
"Moda Living's development shares our aims and Holland Park will help transform this quarter of the city. It's also a significant step forward in our City Centre Living Strategy and alongside our Avenues project will provide much-needed high quality homes whilst delivering new public spaces in this hugely important part of our city."